This is a guide for Mobokey fleet owners. Once you have installed the devices in your fleet, you will be required to follow the following steps. After signing up on the app, and setting up your account.
Guide for a fleet owner using Mobokey
Claiming ownership:
After starting the app, you will see a pop-up screen to Claim ownership.
It is emphasized to only press Claim Ownership if you are the actual owner of the car.
The next step will be to enter the master key. By default, the Master Key is "1010".
Pairing the devices:
You will have to pair the CAM devices with your phone.
The pairing key, by default, is '123456″.
Once you have entered the pairing key, the car will appear in "My Cars".
Application and device configuration: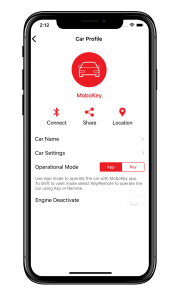 While configuring the app, make sure that you use the email address of the owner of the car. Because only this account will be able to share and access all the other cars.
After entering the information, come near to the car in which the Mobokey device has been installed. The application will automatically look for the Mobokey devices in your vicinity.
Now the car would appear in "My Cars". Upon tapping the car, it will take you to the car profile. Here you will be able to connect/disconnect from the car.
You will be able to share the car and check the location of your car. You can set and change the name of the car.
Sharing the vehicles
Share a car: Select car from the list, select the user you want to share with, period, and access level. Once shared you can view the current status of the car and the location as well.
On tapping on "Share A Car" a "My Cars" screen appears. You can select one of the cars and a Car Profile will appear.
Your guest will have to share the email address using which they signed up on MoboKey. From there the user can share your car. You will have to enter the email address of the contact with whom you want to share the car. The contact will appear and tap on the "Share Car" or "Cancel".
Car Selection: You can select any car from the list of cars that you have registered with the app.
Guest side:
The customer/guest will sign in to the app. They will have received a notification. Tap on the bell icon and simply press the active session. The app will ask them to enter the pairing key, which default is 123456.
Some older phones may face connection problems. Connection with these phones can be a little strenuous.
More information related to MoboKey and the features is available here as well: https://mobokey.com/application-user-guide-for-mobokey/. Some troubleshoot techniques are mentioned here: https://mobokey.com/troubleshooting/
Get MoboKey Now: Click Here