Mobokey provides a lot of features and one of the features is that it provides you with your car's last parked location, as it enables car sharing. So, now you don't have to worry about the parked location of the car.
You must be thinking, how?
Its simple, as the driver goes away from the connection zone, the phone automatically gets the longitude and latitude from Google Maps and stores it so that you don't have to worry about finding your car in large parking spaces.
On the main screen, you can find the button for the Last Parked Location. If you want to look at the parked location, you can simply tap on the screen and navigate to the cars' parked location.
The owner can easily check the location of the cars in the "Shared by Me" section and similarly, the user can check the location on the main screen as well as the "Shared with Me" section in the app.
We understand that this feature is not just sharing the location but so much more as it enables car sharing!
Car Sharing and Last Parked Location
Last parked location and Car Sharing go hand in hand!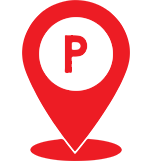 With Mobokey, we have used the last parked location to provide user ease. The location is updated on the app and the server. When you share the car, the app takes the location from the server and sends it to the person.
As Car Sharing enables and boosts the shared mobility, getting the location is very important. Mobokey enables the user and the owner to see the location of the car. Not only this but the location of the shared car keeps on updating after every minute. Until the time has ended. Mobokey has enabled car-sharing companies to share their cars with ease. And provide a manageable way of sharing and receiving cars.