MoboKey is providing Auto Car Security from the Smartphone app. Using this feature, our users do not need to tap on any button to secure their car!
The car automatically gets secured as soon as the driver moves away from the locking zone of the car. The device makes sure that your car is safe even when you are not around.
How to Setup Car Auto Security with a Smartphone?
After setting up the account on MoboKey App and connecting the car, tap on the hamburger button on the top left of the screen. On the side, the menu selects Car Profile.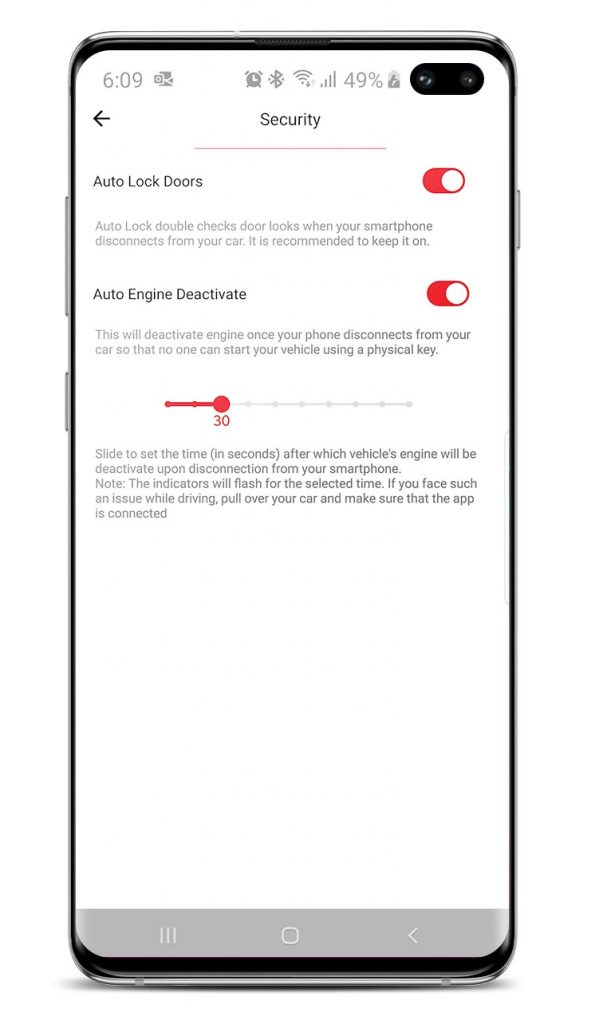 Select Car Settings -> Security.
Once you are in the Security menu, you can find multiple settings.
Auto-Lock Door: This enables the car to lock the car as soon the driver moves away from the car and leaves the locking/connection zone.
They feature double checks that the car is locked when the user is going away. In case when the proximity is not working and the user forgets to lock the car, this locks the car making sure that the car is safe.
Auto Engine Deactivation: The auto engine deactivation allows the device to disable the engine when the user is away from the car. This activates when the user leaves the locking/connection zone.
This feature is handy in case of theft or snatching. The device automatically deactivates the engine when the user moves away from the locking zone.
Below this, you will find the deactivation timer. Users can set the timer from 10 sec to 100 sec. This timer is set by the user himself. The device deactivates the engine as soon as the timer is complete. While using this Auto Security, make sure that the app remains in the background.
Download your application here: Go to Play Store or App Store!
Get more info about MoboKey: An App which is your Smartphone Car Key
Connect your car now. Order here!