Integration of Mobokey's car sharing platform and devices is an easy process. We provide APIs and libraries for the fleet owners to integrate into their system. Here we will discuss how it can be done.
How it Works:
Mobokey app communicates with the car with our patented MoboKey device that is installed in the car. It communicates using Bluetooth Smart with the MoboKey Device with a range between 10 feet to 350 feet.
The app sends the data to the server which stores the user profile, car settings, car list, location and virtual digital key.
The virtual digital key, access level, time duration and location is available on the servers. So when you share the car. That information is shared over the server with the person the car is shared with.
The person with whom the car is shared can have access to the car by connecting it to the car using Bluetooth Smart.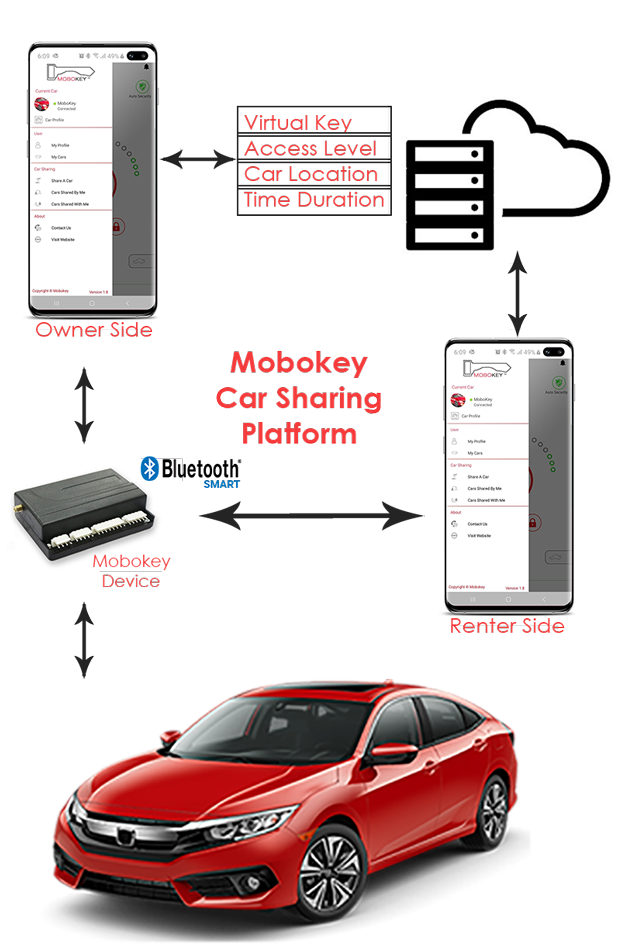 Integration with Existing System:
We use servers on the back-end. We can provide with API to communicate with the existing server.
To access our MoboKey system in your app, we also provide libraries. These libraries can be used to access the device.
Application integration:
We provide Android and iOS libraries for our modules. Our developers would help you out in integrating our solution into your current application.
Device installation: 
Our technicians and installers are available on video and audio calls for a step by step guidance during installation.
White – label application:
We understand that you need exclusivity so we provide white labeling of our app and car sharing platform with features that you need.
Device Customization:
We provide customization in our device according to your integration needs. Our devices can communicate with other connected car devices. We also provide Over the Air (OTA) update support for the firmware of our devices. Not only this but we also can be provide GSM and GPS devices on demand integrate Mobokey's car sharing platform in your app.
App development:
As we have a fully functioning software department, we can also help you to develop the app for you and integrate Mobokey's car sharing platform in your app.
Pricing:
As the fleet size is variable, the pricing depends on the quantity of modules and scope of the project.
So, Download your application here: Go to Play Store or App Store!
Get more info about MoboKey: An App which is your Smartphone Car Key
If you haven't got your MoboKey device, you are left out on so many things. Order here!