MoboKey car-sharing platform enables everyone to share their car with anyone they want. We make sure that you don't feel uncomfortable while sharing or receiving a car. This blog is a car-sharing guide for renters and explains what to do if you are receiving a car using the MoboKey app.
For instance, you have rented out a vehicle from anyone and they have a fleet with MoboKey devices. They would ask you to sign up on the MoboKey app.
MoboKey car-sharing guide for renters
Sign Up: To sign up on the app, you will be required to enter your email address, name, number, and password.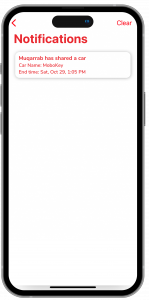 Share the email with the owner: After signing up on the app, share the email address with the owner so they can share the car with you! After this, the owner will share the car with you on the MoboKey car-sharing portal.
Receive a Car: The receiver would get a notification of the shared car along with the time of use. The next step is to go to the car. Once you are standing next to the car, open the MoboKey app. Tap on "Receive a car"!
The device would automatically ask to pair with your phone. Enter "123456". You will have to stay connected to the internet for the initial connection.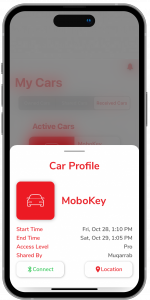 On this tab, you can see all the shared cars. This tab will contain the historical data including Start Time, End Time, and Last parked location.
Location: The app constantly pings the car after some time to check its connection with the car and sends data to the server.
Ending the share: Once the time is about to end, the app would automatically send you the notification at 15 minutes. Another notification will be sent at 10 minutes, then at 5 minutes, and the final notification at the 1-minute mark.
After the time is over, you can not start the car. You can always call the owner to extend the end time of the share.
Some older phones may face connection problems. Connection with these phones can be a little strenuous.
More information related to MoboKey and its features is available here as well: Application Guide. You can use this link for Troubleshooting
Download your application here: Go to Play Store or App Store!
Get more info about MoboKey: An App that is your Smartphone Car Key
Connect your car now. Order here!